Student Council
We also invite Yr. 13 students to apply for the post of Chairman, Treasurer,  Secretary and Business Manager of the Student Council. These posts encourage entrepreneurship and leadership, requiring excellent communication skills to champion all of our community and charity events throughout the year.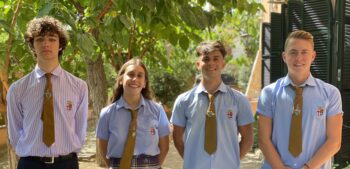 The School Council consists of two representatives from each year group. The purpose of the council is to provide a forum in which ideas can be shared, issues discussed and perspectives heard from across the age groups. A key role of the council is to co-ordinate charity fundraising events and community projects.
In order to encourage our students to take pride in their achievements and develop team skills, a House System exists in the Primary School with students belonging to one of three houses:

In the Primary School the houses are co-ordinated by the 6 House Captains elected from Year 6. They are responsible for leading their houses in  competitions, motivating and inspiring their team-mates. Housepoints may be awarded throughout the academic year in recognition of good schoolwork, effort, contribution to the school and extra-curricular events.
As well as the prestigious housepoint trophy, the other coveted trophy is the Sports Cup which is awarded to the winning house following the annual Olympic Day in May.
This event is held at the athletics stadium in Magaluf in May with track and field events for all students from Y1 to Y10, teachers, and parents who turn out to compete and support their houses in a variety of athletic disciplines.
The house system gives all students the opportunity to participate in a team by contributing skills they may already have while learning new ones. Students also benefit socially by working with older and younger members of the same house, developing communication skills and confidence.